Painting
Acrylic, tempera and watercolor paint will be used to paint realistic and abstract pictures. Students will learn different techniques to make their paintings unique.
Drawing
Colored pencils, charcoal, pastels and ink are just a few of the tools students will use to explore different drawing styles.
Clay
There are different types of clays for our young artist to use. We will shape self-hardening clay and clay that is fired in a kiln to create functional and decorative ceramics.
Collage
A collage is made by adding different forms together to create a new image. The possibilities are endless. Paper, paint, buttons, ribbons, recycled materials are all great materials for creating a collage.
Weaving
Yarn, paper, and recycled materials are some of the materials we'll use in our weaving projects. Younger artist will learn how to use a basic weave in a creative way while more advanced artists will learn more challenging weaves.
Mixed Media
When you use more than one type of media in a project it's called, 'Mixed Media'. Yarn weaved into a clay loom or adding beads to a paper collage are just two of the mixed media projects to be created.
Creative Design
This course teaches the student the basic art techniques used to express an idea in two dimensions. It introduces use of color and form to develop the ability to express their sense of imagination artistically. Some of the main elements of this course are book cover design, logo design, and 2-D design.
Instruction begins with the suggestion of a word or an adjective which the student is asked to visually present. Students are taught the basic techniques used to reduce presentations into simplistic shapes in a form of a logo. Students are instructed in the use of color and form to demonstrate a visual definition of an idea or an object. Students are also exposed to the elements of book cover and two-dimensional design. This activity's purpose is to maximize the student's ability to use two-dimensional space for attractive and descriptive design. The goal is to enhance the student's visual communication. Students are given a topic and a task in which they use the fundamentals of typography and imagination to define the topic to the viewer.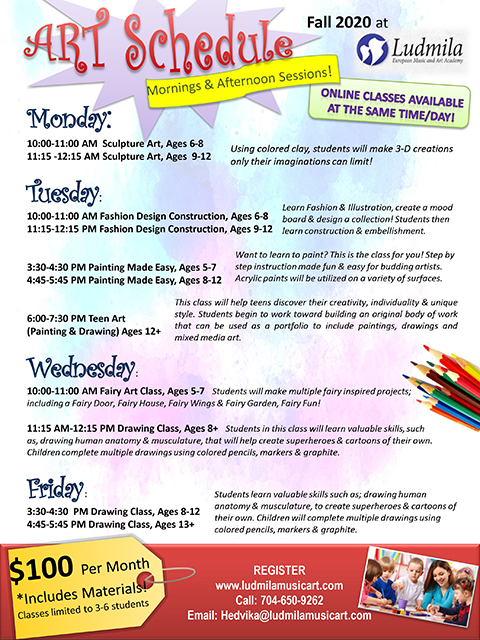 Drawing
This course will enhance the student's ability to use a variety of media to draw objects with proportionality.
Classes start with small drawing exercises using pencil and a paper. Realistic objects are presented to the student. The student is then asked to draw the object within a short period of time while looking mostly at the object. This exercise enables the student to practice the hand techniques used to draw objects proportionally. Instruction is equally divided between realistic and abstract drawing projects. Media used includes pencils, color pencils, and charcoal.