About the Ludmila School of
Music & Art

10 successful years in business providing enrichment and education program in the Lake Norman area!
After more than twenty years of teaching music, piano and dance in the Czech Republic and the USA, I have decided to open a music and performing art school that will serve the greater North Charlotte, Lake Norman area including Huntersville, Cornelius, Davidson, & Mooresville in North Carolina. I have thought about building my own Music and Art Academy for many years. There is an important need for children to be exposed to music and art, dance and theatre education to further enrich their lives as a counterbalance to all the growing technology and electronic gadgets in today's society. Our semi –annual recitals are always showing that we are going in the right direction.
Why The Name Ludmila
Ludmila Kosova was my grandmother. She was born in 1898 in the small village of Benesov u Semil, located in the northern Czech Republic. She raised six children; the youngest was my mother Hedvika, who became a music and piano teacher.
My grandmother has been a huge influence in my life. As a child, I spent a lot of time with her in her small house in the mountains in the village of Bozkov. A very intelligent women, Ludmila graduated with a Nursing degree and for most of her adult life, she delivered many of the babies that were born in the surrounding villages. She read many books and taught me many things including history & religion that were not taught in school.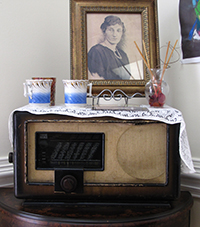 It was very difficult growing up during this time as the Czech Republic was under strict Communist rule of the former Soviet Union. Every night, even though it was illegal and she risked being arrested, she listened to a radio broadcast – Voice of America. Each morning she would explain to me what she heard the previous night, always tell me great stories about America. She would tell me about tall skyscrapers, great people, freedom, and President Kennedy. She loved US presidents and always talked about them like they were heroes! At school, communist teachers taught completely different stories that I realized later were not true. We were taught that the American government was bad and dangerous for East Europe and that American people were poor and starving.
My grandmother died when I was eighteen and although she never got an opportunity to visit America or see the fall of communism in the Czech Republic, it was her stories and dreams about America that inspired me to come to the US. My school is named Ludmila, in honor of my grandmother. The old Czech radio which she listened to the Voice of America broadcasts so many years ago is on display in the waiting area.